Flushing
Since the customer sets high standards of cleanliness for the components supplied (specifically: ISO 4406 cleanliness class -/14/10), the actuators are flushed beforehand. Previously, Wouter Witzel hired a manually operated flushing unit for this kind of project, whereby each flushing cycle would take around 2 to 3 hours. For this project, the number of valves is high and the requirements for the cleanliness level set to a level that the company decided to invest in its own automatic flushing unit. Preferably one that can also perform functional tests.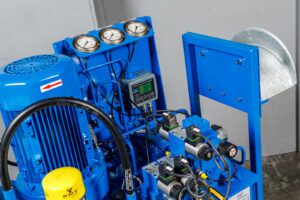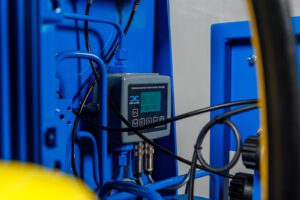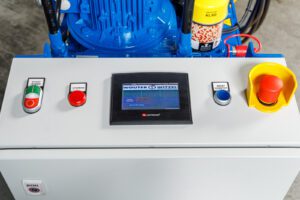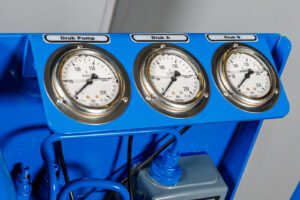 Collaboration
This flushing unit was developed in collaboration with hydraulic installations specialist Holland Hydraulics and filtration specialist Des-Case/RMF Systems. The final result is a flushing/testing unit that will flush out the dirt particles from the actuators with a special, thin oil. These particles come from production, transport and storage, among other things. These dirt particles are removed from the flushing oil again via a fine filter. Using a particle counter and PLS, the system automatically monitors the cleanliness level of the oil and provides a signal when the required level is reached.
To test the actuators for functionality, a selector switch can be switched from 'flush' to 'commute'. In this position, the actuators move back and forth time-controlled. At the end of the stroke the cylinder is loaded for a set time at a set pressure (maximum 250 bar). With this, among other things, the breakaway torque of the valve (stick/slip) and the robustness of the actuator can be determined.
Case study
With this new flushing and test unit, Wouter Witzel reduces the flushing time from the aforementioned 2 – 3 hours with a rented manual unit to less than half an hour with this automatic system. In addition, this unit is also suitable for flushing hydraulic components for other customers.
In conclusion, the various parties agree that the project was a textbook example of close cooperation with an optimal end result.